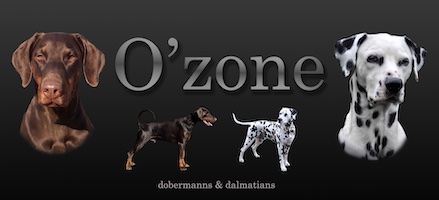 O'zone R-litter
born December 5th 2014
2 males (black)
1 male (brown)
Reykholar, Rhinelander, Rostov
EE CH, EE JunCH, ZTP V 1A, BH, MH
SANT KREAL CHE GUEVARA

* d.o.b. 7.6.2009
* hd- A, ed- 0
* neck & spine x-rayed - normal (2011, 2012)
* phtvl/phpv, rd, pra - 0 (normal)
* CAH - normal (M0; 09/2014
* vWd - free (DNA; Finnzymes)
* Cardiotested - normal (A) (24.5.2013; clinical + ECG + ultra + Holter 24h); clinicla + ultra + ECG: normal (11.9.2014; Animagi, Oulu)
* Thyroid - normal (01/2013)

* more about Sant Kreal Che Guevara
* more about Sant Kreal Che Guevara

MH
FLEUR VH WANTIJ

*d.o.b. 13.9.2010
*hd - A, ed - 0
*phtvl/phpv - 1 (mild / lievä), pra/hc/rd - free
*neck & spine x-rayed - normal (04/2012)
*CAH - normal (M0; 01/2014)
*vWd - free (by parentage)
*Cardiotested - normal (A) (26.-27.2. 2014; clinical + ECG + ultra + Holter 24h; YES, M. Wiberg)
*Best Female placements & BOB from show (SERT/va-CACIB/PN/ROP)
*14.4.2012 Helsinki; unofficial working ability testing (viettitestaus)
*19.5.2013 Mouhijärvi; MH (Mental Test)
*17.5.2014 Renko: Finnish Charactertest (LT) +1, +1, +1, +2, +1, +1, +1, +3, +++ (laukausvarma / secure to gunshot, no reaction)
30.6.2014 Hämeenlinna National Obedience Trial, 1st level (TOKO ALO): 180 / 200p

*more on "Elsa"
* "Elsa" in FKU database
Our R –litter (Dobermann) was born in December2014 under very
unfortunate stars. According to expert veterinarian ultrasound we were
expecting to get 8 puppies. 6 were born live and were quite big (except
for one that seemed to be prematurely born) and after 2 more were born
dead I made a fatal misjudgment probably due to the ultrasound statement
and having been awake for almost 48 hours straight as 2 more were then
later on born dead at the vet clinic, luckily there was no need to
operate and the mother recuperated fast.
However only 3 males survived (2 black + 1 brown male) as 1 died
embedded by his mother, 1 was put to sleep at age 2 days due birth
defect (urinary tract improperly formed & natural bobtail which was also
kinked) and the 1 prematurely born died at the age of 2 weeks.
Because the birth was so difficult 3 out of the 4 stillborns were
obducted at the Finnish Food and Animal Safety Authority (EVIRA) and as
result could only be deduced that they had been concieved to full age
and then had died in the womb before birth due reason unknown thus
making it hard for the mother to push them out. No bacteria nor virus
was detected. On two of the three obducted puppies
PDA
was detected.
Due the difficult birth I would not consider the dam again for mating.
The ownership of the dam was transferred to her placement home
after this litter as agreement in our contract (one litter in my kennelname).
Elsa's homepage
| | |
| --- | --- |
| Sant Kreal Che Guevara | Fleur vh Wantij |
Pedigree
EE CH, EE JunCH, ZTP V 1A, BH, MH

Sant Kreal Che Guevara


RU CH EE MVA SI MVA BY MVA RU GR MVA RU JCH RKFV

Grand Mollis Armani
RU CH RU GR CH RU JCH LT CH LT JCH EUJV-07 RKFV

Teraline Indigo
UA CH

Atreyo De Grande Vinko
C.I.B RU CH EE VMVA RU GR CH

Teraline Aurora
C.I.B UKR CH MD CH RO CH RU CH RU GR CH BY CH

Sant Kreal Monna Liza
C.I.B EE CH MD CH RO CH RU CH LT CH BY CH UA CH

Nestor Iz Zoosfery
RU CH

Sant Kreal Nemesida Nora
RU CH

Sant Kreal Domino
RU CH UKR CH BY CH

Pluto De Grande Vinko
C.I.B HU CH NL CH EUV-98 YU CH

Baron Nike Renewal
UA CH

Grafinya Shanel-San De Vinko
RU CH RKFV

Sant Kreal Zabava
Matador Von Der Räuberhöhle
RU CH

Sant Kreal Novella
MH

Fleur vh Wantij


BH ZTP V1B VPG2

Latino Lorenco von Cobra
Rui Manuel del Rio Bianco
Nilo del Rio Bianco
Zeni del Rio Bianco
Merlin von Cobra
Rensdorff Bonaparte
Esmir from the House of Crazy Baker
ZTP V1A, BH

Xena van het Wantij
Nitro del Riobianco
Nilo del Riobianco
Farah del Riobianco
Zarina van het Wantij
Don Diego Van't Sweko
Phoenix van het Wantij
Reykholar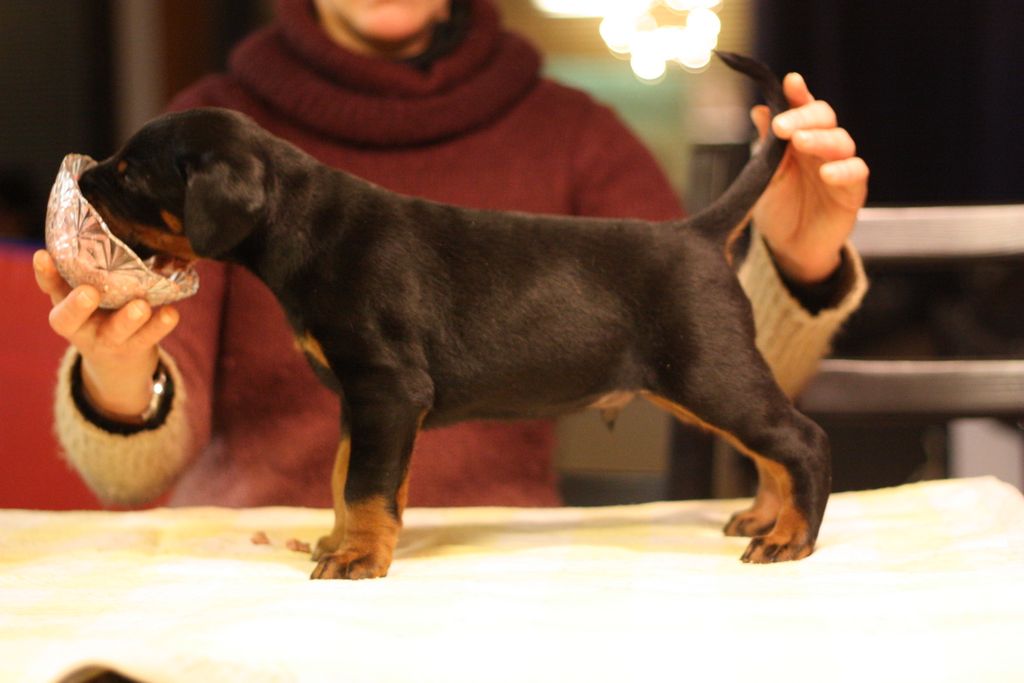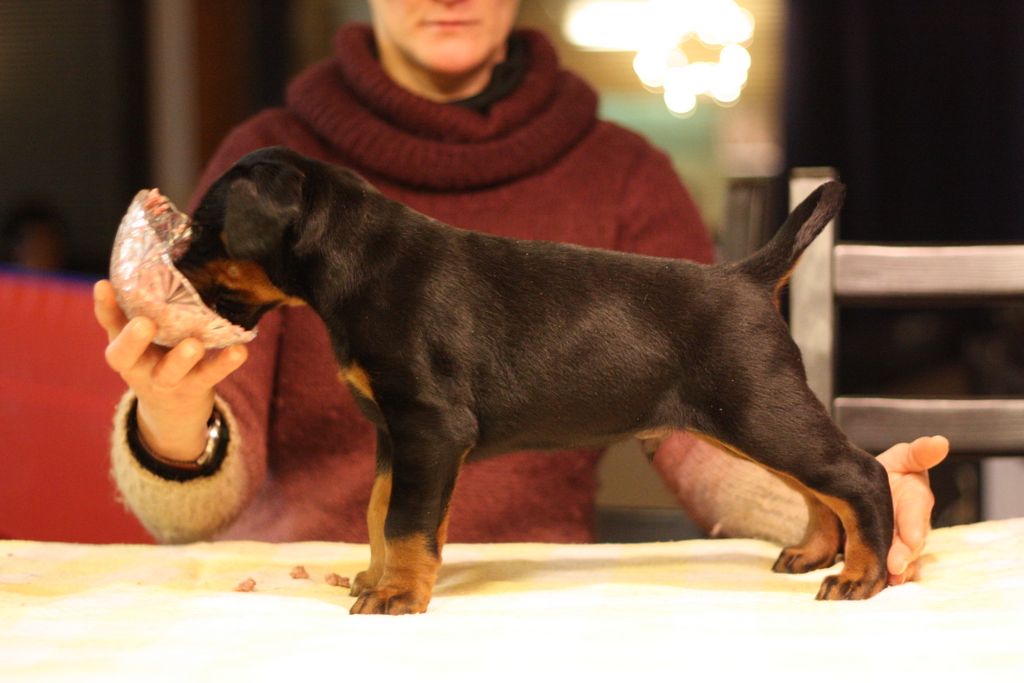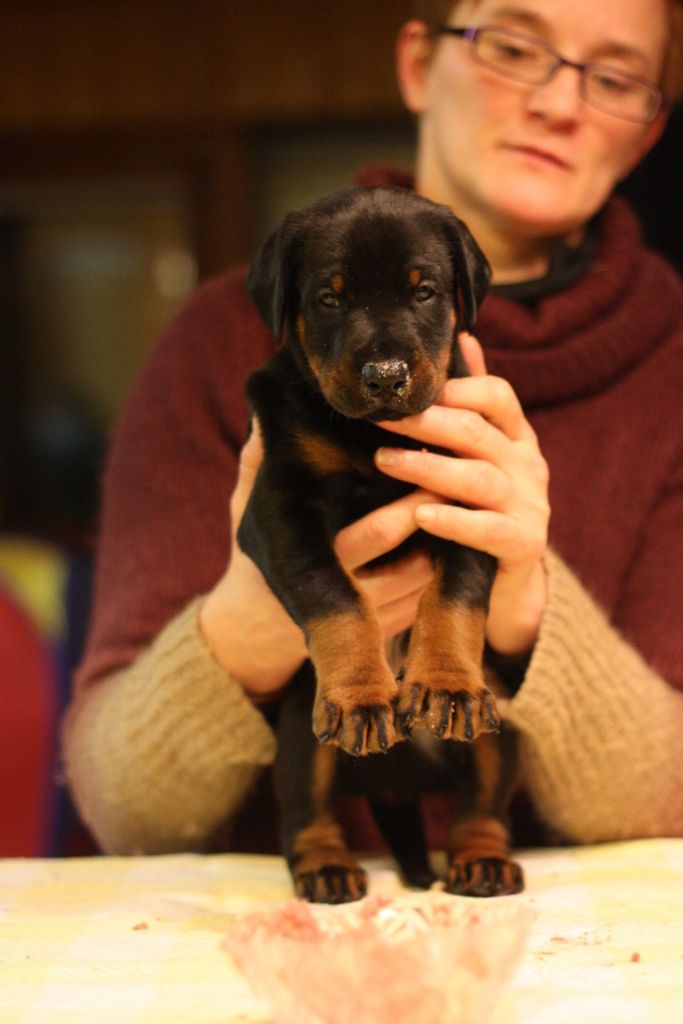 "Reykholar 4½ weeks" © V. Vesterinen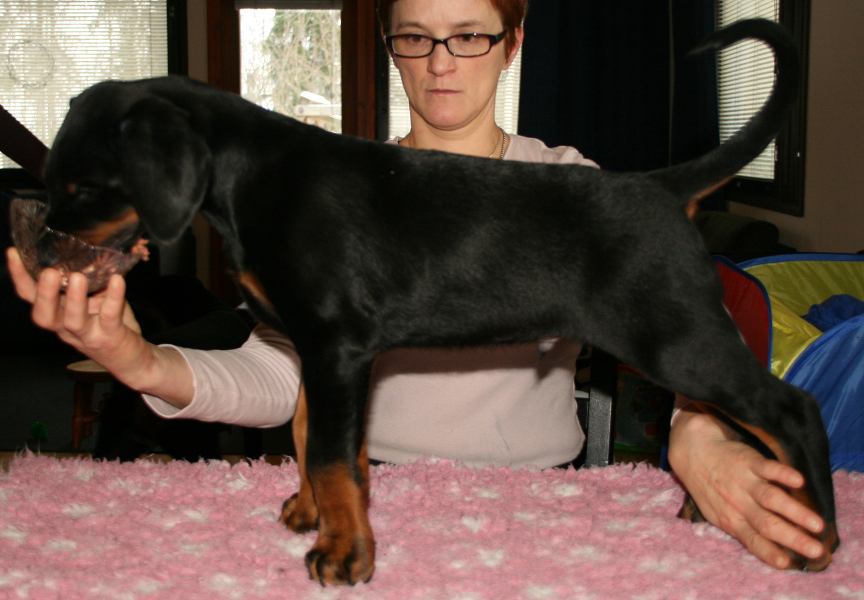 "Reykholar, 8 weeks" © H. Pasanen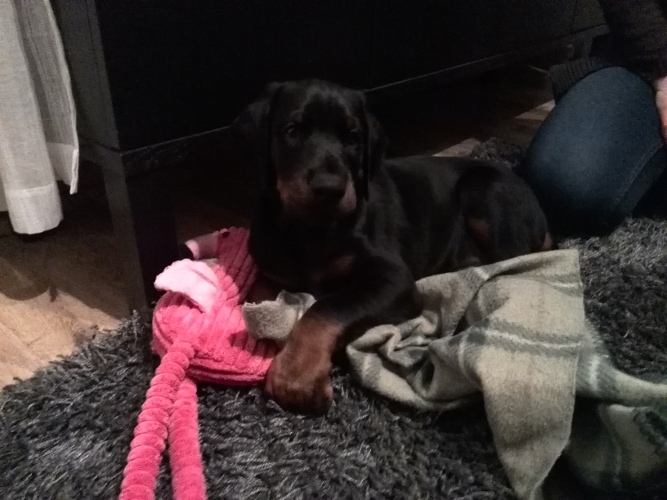 "Oz. Reykholar aka.Jeri 8 weeks in new home" © N. Lauren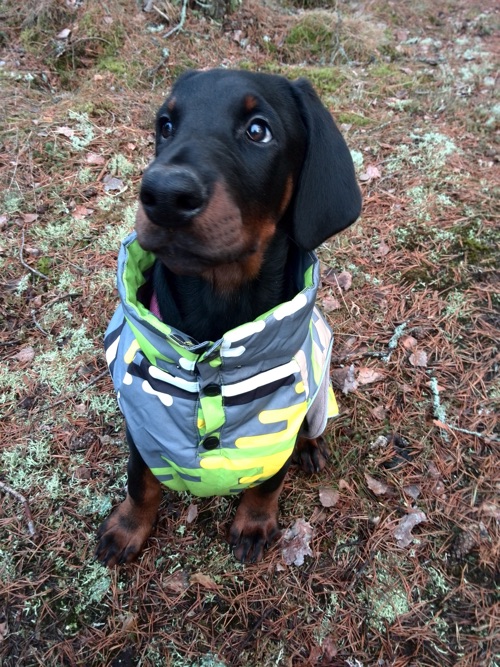 Jeri almost 4 months © N. Laurén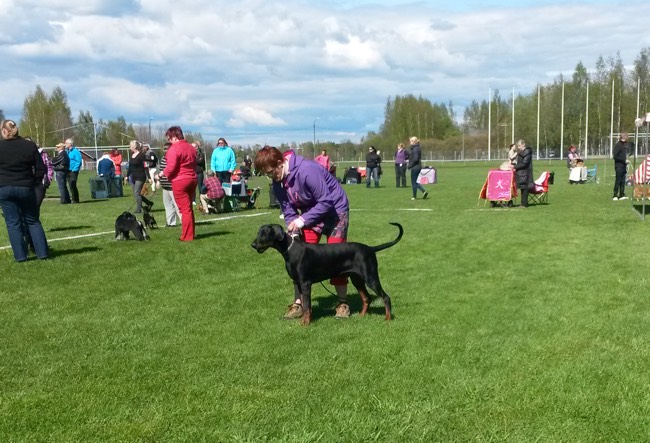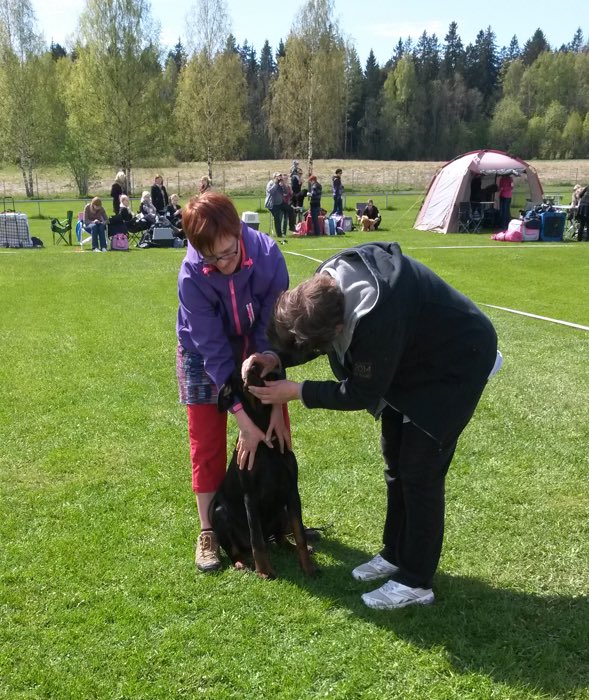 Oz. Reykholar 5 months © N. Laurén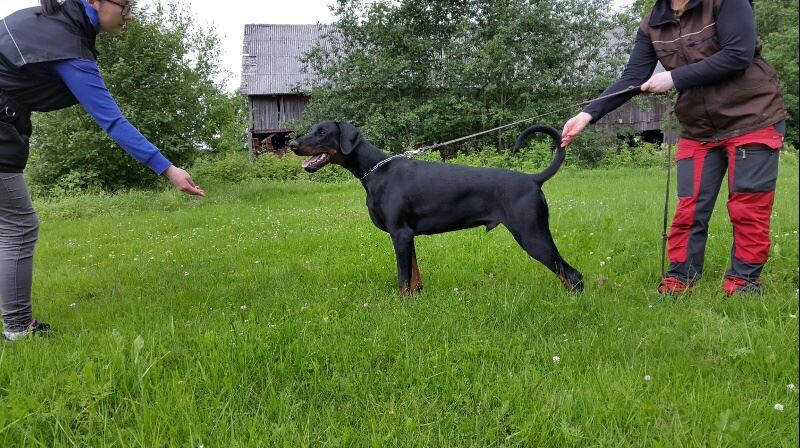 Oz. Reykholar aka. Jeri 7 months © N. Laurén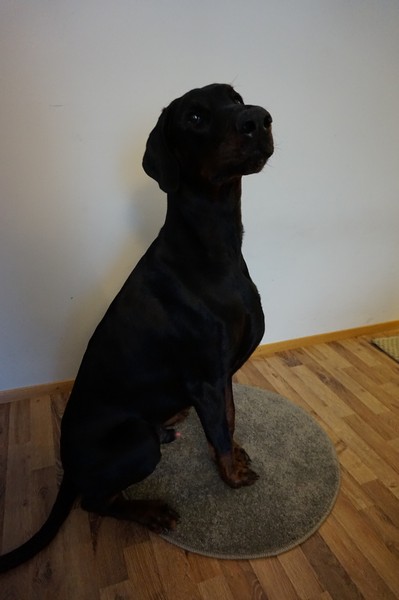 Jeri 14 months © N. Laurén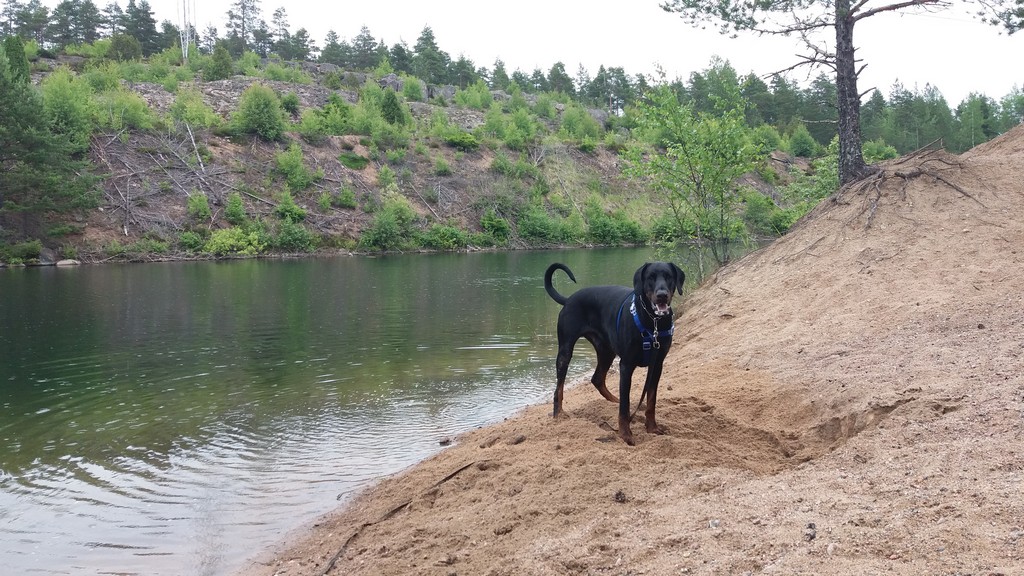 Jeri summer 2016 © N. Laurén


5.12.2014 - 5.9.2016
(euthanasia; polyarthritis)

HD- C
LTV0 (lumbosacral transitional vertebra; normal)
VA1 (vertebral anomaly; mild)
vWd - free (DNA; Laboklin)
dilution factor: D/D - noncarrier (DNA; Laboklin)
polyarthritis of autoimmune form detected 08/2016


shown in Baby class (5-7 mnths):

17.5.2015 Helsinki; Judge T. Salmi-Aalto (FI): 1. HP & Best Male Puppy & BPB-Puppy


owner: N. Lauren & H. Koivukangas

O'zone Reykholar in FKU database



IDC -15 Black Males Puppy Sieger
Rhinelander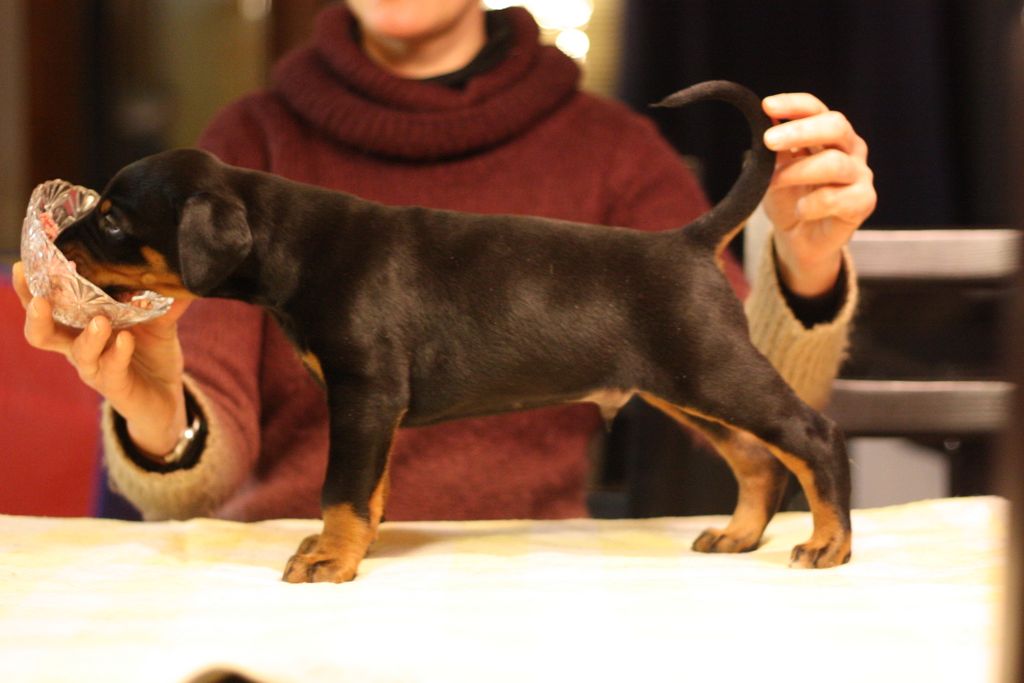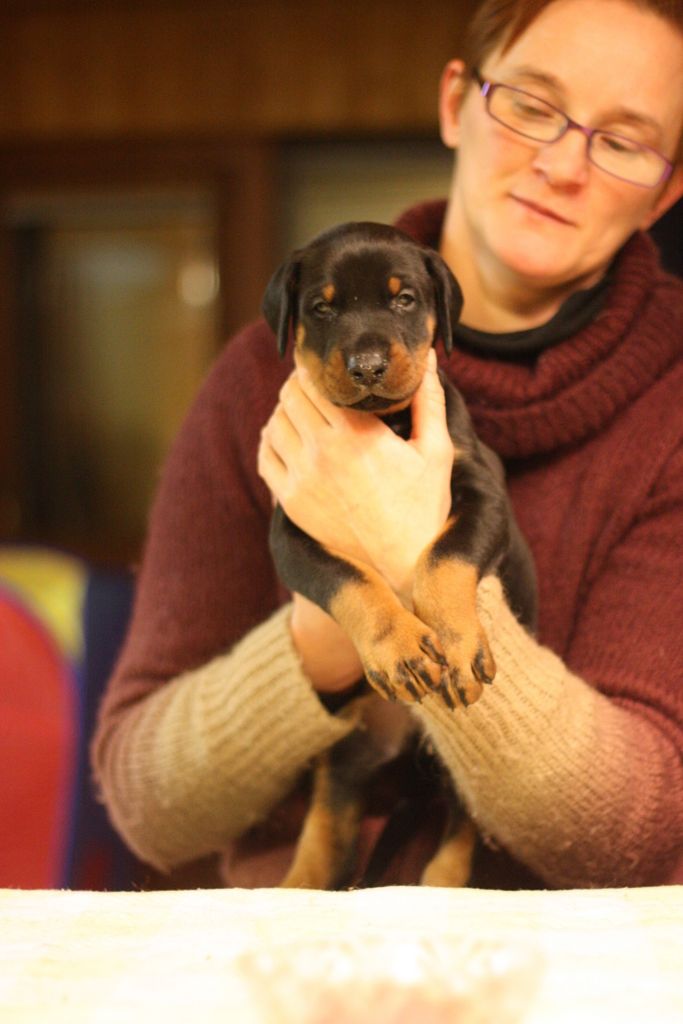 "Rhinelander 4½ weeks" © V. Vesterinen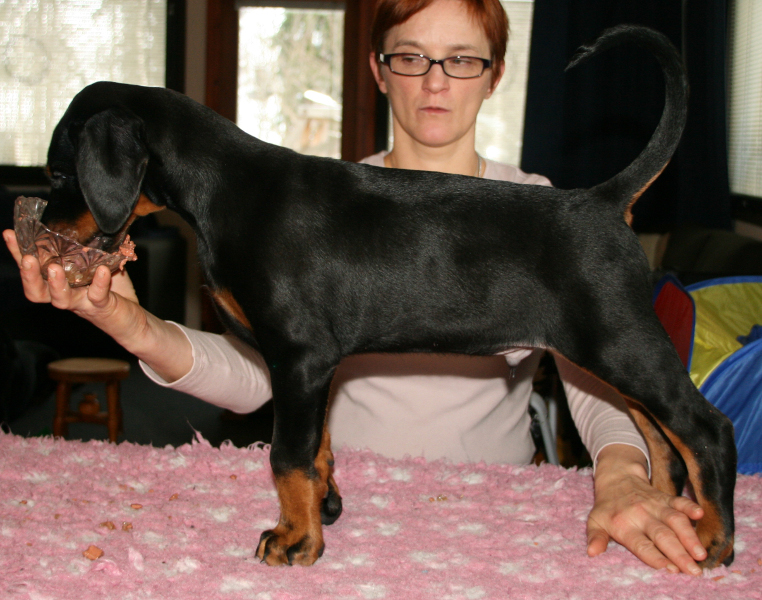 "Rhinelander, 8 weeks" © H. Pasanen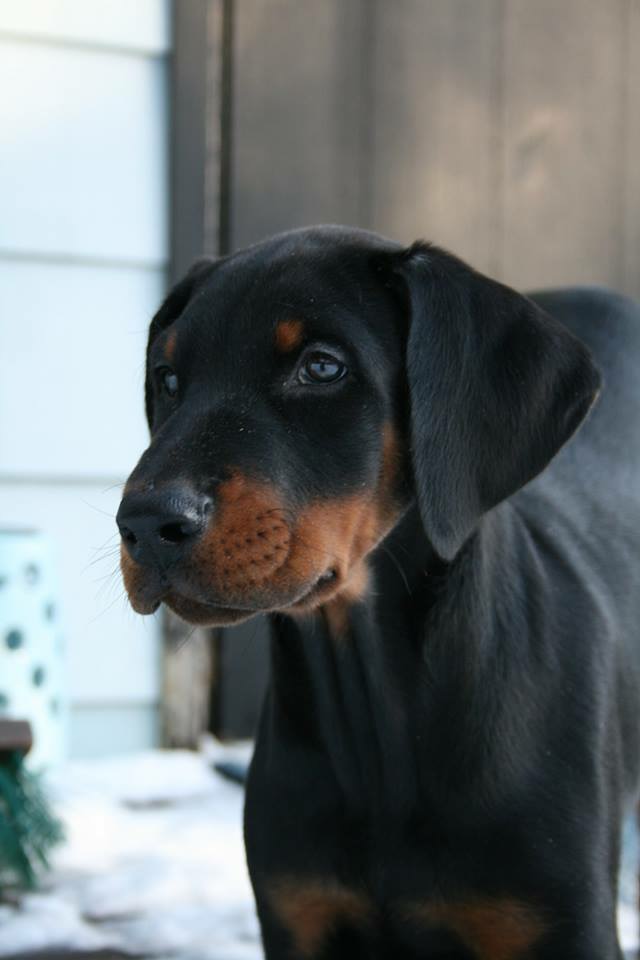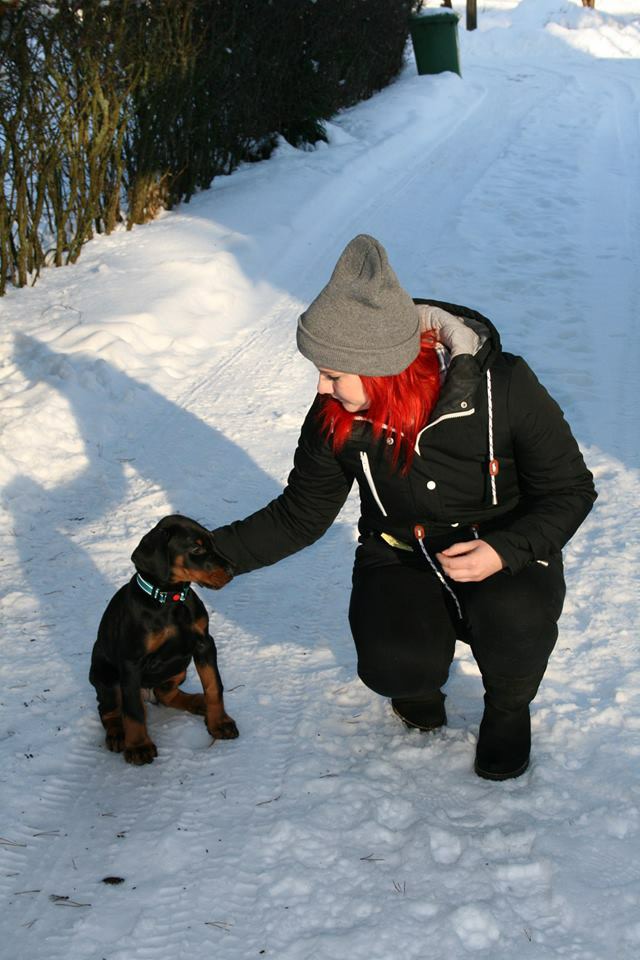 Oz. Rhinelander aka. Toivo approx. 9 weeks © S. Leino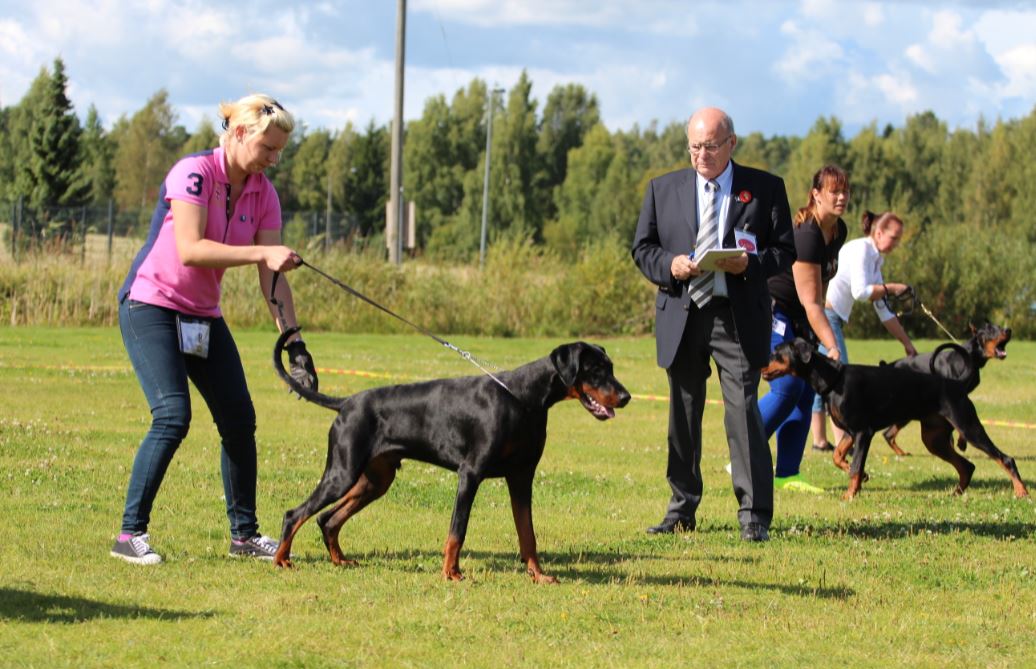 Oz. Rhinelander almost 9 months in IDC 2015 Finland © M. Moisala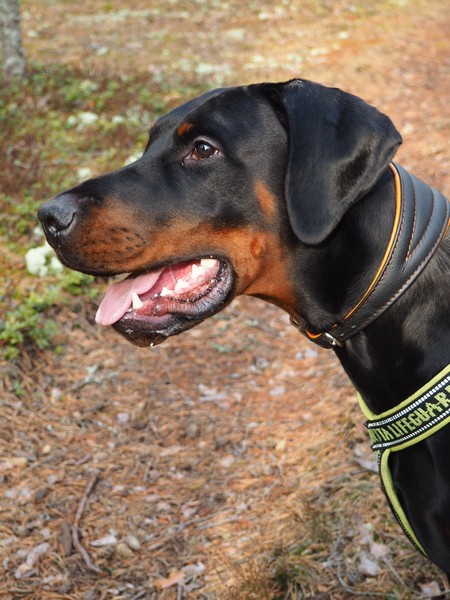 Toivo, expression at almost 16 months © S. Leino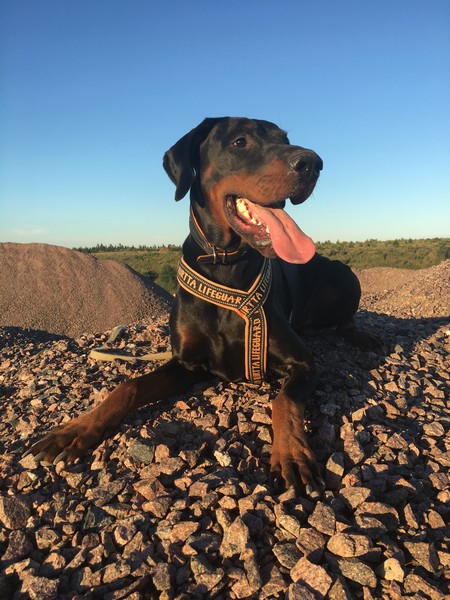 Toivo 08/2017 © S. Leino



HD- A
ED- 0
LTV0 (lumbosacral transitional vertebra; normal)
VA1 (vertebral anomaly; mild)
vWd - free (by parantage)


owner: S. Leino


shown in puppy class (7-9 months):

08/2015 IDC Porvoo, Finland: Black Males Puppy Sieger-15



O'zone Rhinelander in FKU database



EE JCH
Rostov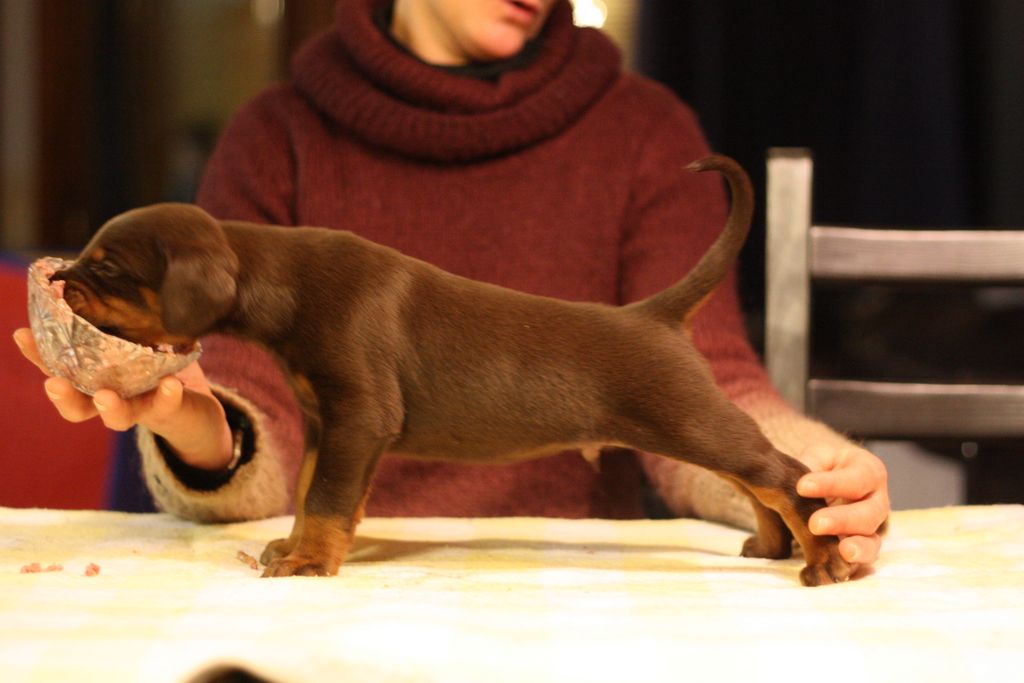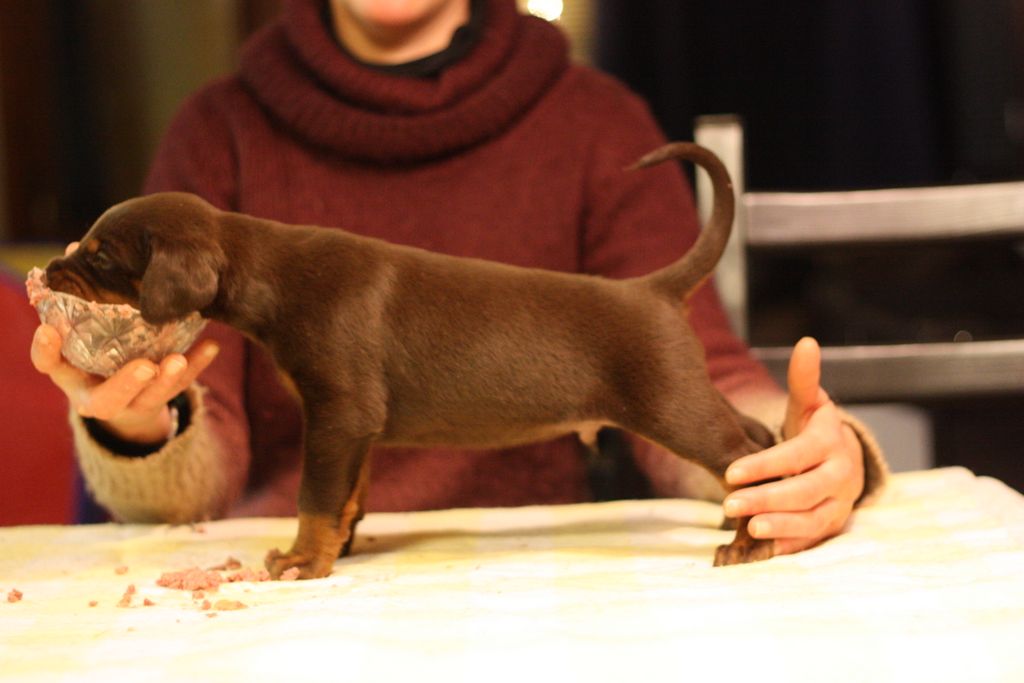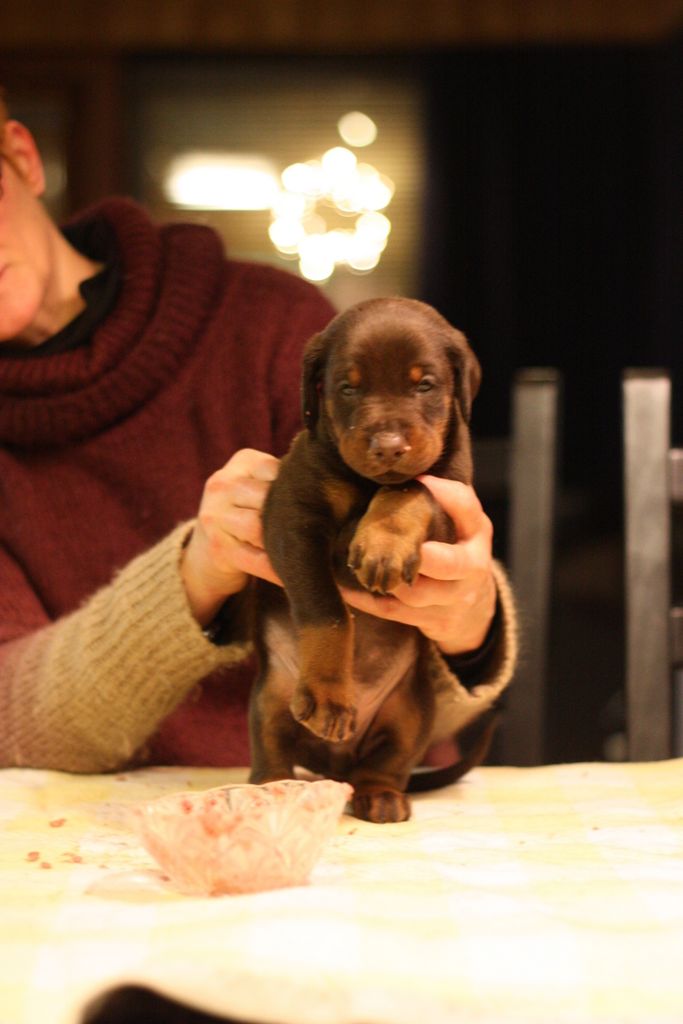 "Rostov 4½ weeks" © V. Vesterinen





"Rostov, 8 weeks" © H. Pasanen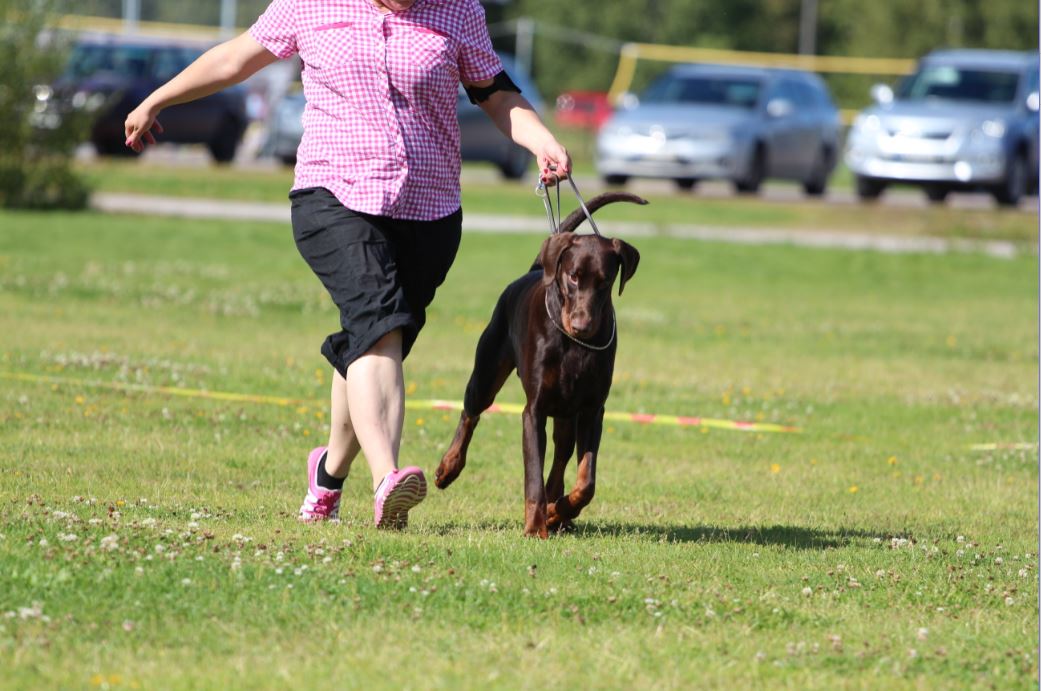 Oz. Rostov almost 9 months in IDC 2015 Finland © M. Moisala


HD- C
ED - 0
LTV4 (lumbosacral transitional vertebra; anomalous amount of vertebra; 6 instead of 7; 12/2015)
VA0 (vertebral anomaly; normal; 12/2015) missing 1 incisive tooth, lower jaw
vWd - free (by parantage)
cardiac health certificate (2.6.2017: auscultation, ECG, ultra): healthy, no symptoms, no signs of heart disease


owner: H. Pasanen


shown in puppy class (7-9 months):

08/2015 IDC Porvoo, Finland; Brown Males Puppy 3rd place



O'zone Rostov in FKU database

Rostov's homepage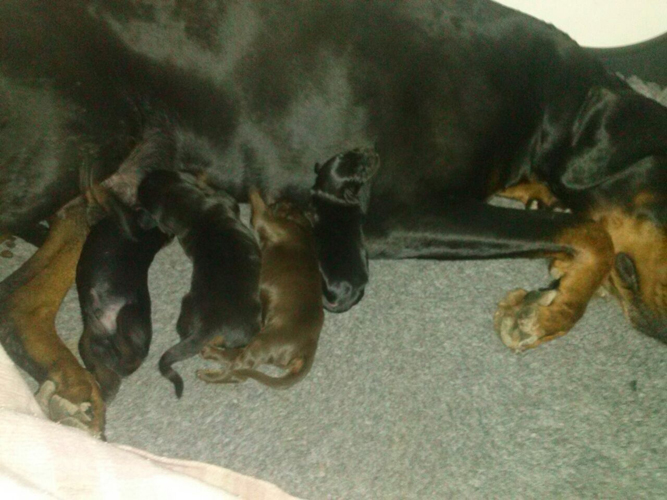 © J. Tuomaala

Oz. R -litter boys approx. 5 days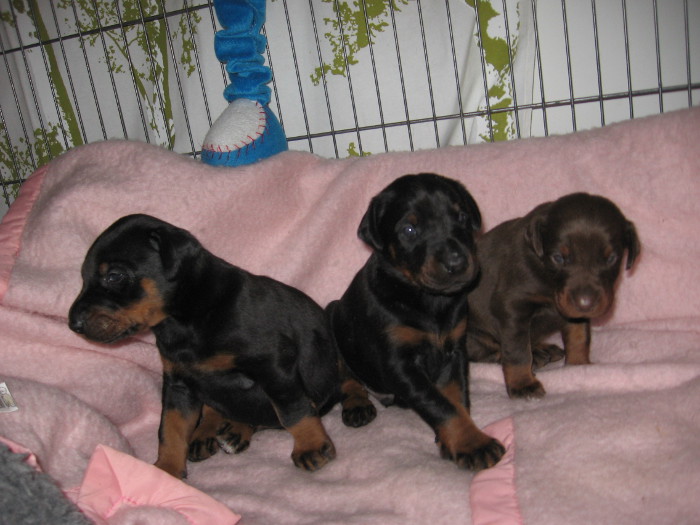 © O. Vilkuna

Oz. R -litter boys 3 weeks