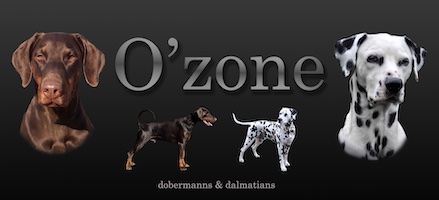 About the breeder
Outi Vilkuna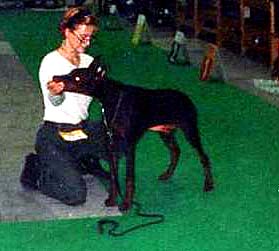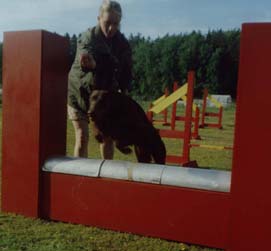 I've been an animal lover my entire life, with special interest to dogs and horses. My first contacts to dogs were with Finnish Army's German Shepherds and Airedale Terriers when my family lived on Army grounds due to my father's work. My relatives' have all had and have dogs: Finnish Hounds, Labrador Retrievers, Krohmfohrländer Terriers, German Shepherds, Airedale Terriers and St. Bernards and my great-uncle bred horses... but I had to wait 'til I was 13 years old before my parents let me have my first own dog, a red Cockerspaniel, Nouchka de Vellan, from France. With her I attended Working Dog's trainings and some shows. When she passed away, I couldn't live without a dog... and preferably from a working breed. I made a reservation for a male Boxer pup... but then Kristiina Aaltonen (kennel Kriegerhof) called and asked me to come and see her first litter. I went... and lost my heart... Kriegerhof Apache Yanka was my first Dobermann and ever since I've been in love with this remarquable breed.
I've been a member of the Finnish Dobermann Club since 1993 and I've also been involved in the activities of the Finnish Dobermann Club: e.g. I've been a member in both the Show and the Working Trials & Training Committee, ensuring sponsor relations, as well as written articles to the Club magazine and the Finnish Working Dog magazine on various topics. In 2005 I temporarily took care of the duties of President of the FDC Show Committee and during that time, amongst many other things :-), the following web pages were created - Great thanks to the webdesigner, administrator and all those who contributed/will contribute to the contents of these pages. Also Thank You to the entire "Show Team 2005" for the time we worked together; it was my pleasure :-) Finnish Dobermann Club Show Committee pages
I was appointed the chair of the Show Committee of Vantaa Working Breeds Club in 2006-2007 and the Chair of the Activities Committee in 2008-2009. I have also been active on the field as training instructor for obedience and search in the realm of this club. Vantaa Working Breeds Club's pages. I was appointed a member of the Board of Vantaa Working breeds Club for 2007 and 2008, and a member of the Finnish Dalmatian Club board in 2009-2009, and reserve member of the board in 2012-2013. From 2020 I have been appointed member of the Finnish Dobermann Club Breeding Committee.
My brother got his first Dalmatian, Chatterly's Matador, in 1993 and in 1999 I took a female, Dalmira's Agile-Macy. Dalmatians are very versatile and enjoy e.g. agility and obidience as well as search & rescue.
As breeds and characters Dobermanns and Dalmatians go together well; both are very active and enjoy different tasks & training... and they can both be just as "stubborn" that is have a very strong will of their own :-) ...and they both enjoyed long "walks" with my horse, Sir Warbert, a true sport and gentleman, whom we had to let go on November 19th 2001, at the high age of almost 22 years.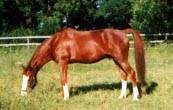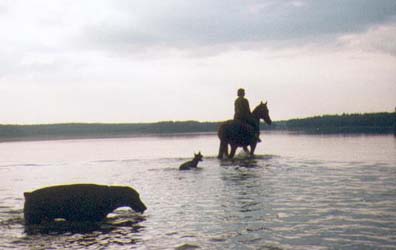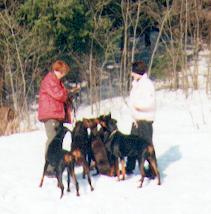 Out for a walk with my friend, Annina Baer (Toscanina's dobermanns), and our dobes.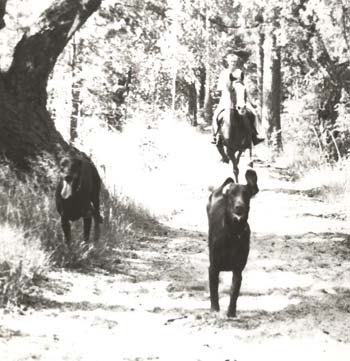 © O. Vilkuna

Pablo, Muusa and Larbert & me, summer 2000

---
Our first dalmatian-litter, O'zone A, was born in 2001 and our first dobermann-litter, O'zone B, was born in 2002. We are aiming at healthy and sociable dogs with whom it's a pleasure to work and live. All our dogs live as loved members of the family and we have litters occasionnally. We do not approve of large scale breeding facilities, breeding of test animals nor breeding for pet shop selling (puppy mills).
I have passed the Breeder's Examination by the Finnish Kennel Asssociation. In my breeding I follow the rules and guidelines for breeding by the Finnish Kennel Association (Breeder Agreement), the Finnish Dobermann Club's Breeding Programme and the Finnish Dalmatian Club's Breeding Programme. I also try to get more information and learn more on various themes; in order to do this I've taken e.g. a course on Canine behaviour and the psychopathology of canine problem behavior, and participated e.g. to lectures on Genetic Variation in Dog Behaviour and Selective Breeding for Mental and Physical health in Dog populations; and another one on Evaluation of the results of breeding (Working breeds) through Working Trials and their results.
I have passed the Dog Trainer Course (Koirankouluttaja-kurssi, SPKL) in spring 2003 and Training Instructor (PK koulutusohjaaja-kurssi, SPKL) course in spring 2005. I obtained the Working Trials Assistant Certificate (specialized in Finnish Charactertest) in early 2008.

I was awarder the Finnish Working Breeds Association bronze medallion in 2006. In 1991 I was awarded the FDC (Finnish Dobermann Club) bronze medallion, the silver medallion was awarded to me in 2008 and gold medallion in 2020.

Finnish Dobermann Club Breeder of the Year 2013 Award (based on overall results in trials, shows, health and character testing)

Finnish Dalmatian Club Breeder Award nro 18 was handed to kennel O'zone in 2016 for merits in Dalmatian breeding with special mention on the thorough health testing.


Interview of the breeder Outi Vilkuna / kennel O'zone in Belgian Dalmatian Club magazine Spikkelniuws 03/2020 (published with permission of editor Julie Plymiers)
---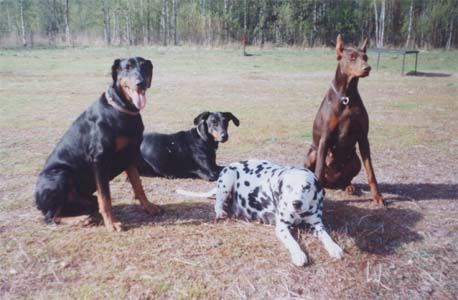 Dobermanns "Pablo" 7,5 years, "Velda" almost 9 years, "Ghia" 3 years and dalmatian "Hulda" 5,5 years in spring 2003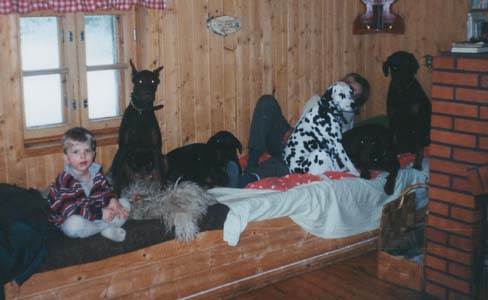 Emppu, Ghia, Velda, Hulda, Me, Medusa & Pablo having a common nap at summerhouse in autumn 2002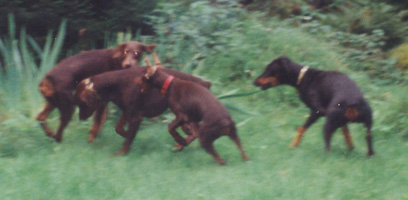 Dobermanns Mari, Muusa, Ghia & Velda in 2000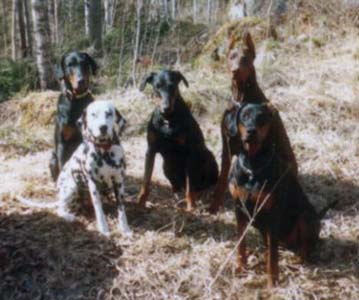 Dgang portrait spring 2004
---
TIIVISTELMÄ SUOMEKSI - A BRIEF SUMMARY IN FINNISH
Olen koko ikäni ollut tekemisissä erirotuisten koirien kanssa. Ensimmäisen oman koirani (punainen cockerspanieli) sain 13-vuotiaana ja ensimmäisen dobermannini otin v.1993: hain lyhytkarvaista koiraa, jonka kanssa olisi mahdollista harrastaa melkein mitä tahansa perinteisten palveluskoiralajien lisäksi. Ensimmäisen dalmatiankoirani hankin muutama vuosi tämän jälkeen: dalmis on ketterä ja oppimishaluinen rotu, joka ei vikkelyydessä jää dobermannista jälkeen esim. agility-radalla. Molemmat rodut ovat hyvin energisiä ja toiminnanhaluisia. Molempia rotuja on myös tutkittu runsaasti ja niiden terveystilanne on suhteellisen hyvä. Emme hyväksy suurimittaista kaupallista kenneltoimintaa, koirien kasvatusta koe-eläimiksi tai eläinkauppamyyntiä varten (nk. "pentutehtaat").
Pyrin olemaan aktiivisesti mukana em. rotujärjestöjen toiminnassa, ja olen ollut esim. dobermannien koe- ja koulutus- sekä näyttelytoimikunnissa joko varsinaisena tai avustavana jäsenenä ja tammikuusta 2005 väliaikaisesti näyttelytoimikunnan pj:na, jona aikana monen muun mukavan asian lisäksi, luotiin myös toimikunnan omat sivut: kiitokset webbisuunnittelijalle ja adminille sekä kaikille niille, jotka ovat antaneet/antavat materiaalia sivujen luomiseen. Kiitos myös "Show team 2005" - kanssanne oli mukava työskennellä :-) (SDY ry Näyttelytoimikunnan sivut).
Olen myös järjestänyt yhdistyksen toiminnan sponsorointia ja osallistunut rotujärjestön lehden toimitukseen; kirjoittamiani artikkeleita on ilmestynyt muissakin koira-aiheisissa julkaisuissa. Pyrin jatkuvasti kasvattamaan tietojani niin etologian, koulutuksen kuin jalostuksenkin saroilta.
Olen ollut nimettynä Vantaan palveluskoirayhdistyksen (VPY ry) näyttelytoimikunnan puheenjohtajaksi 2006-2007 ja tapahtumatoimikunnan puheenjohtajaksi 2008 alusta. Em. yhdistyksen hallituksen jäseneksi minut on valittu sekä 2007 että 2008, Suomen dalmatiankoirat ry hallituksen jäsenenä toimin 2009-2011 ja varajäsenenä 2012-2013. VPY:n toiminnassa olin aktiivisemmin mukana 2004-2009 toimien myös koulutusohjaajana tottelevaisuuskentällä ja haussa. VPY ry:n sivut
Ensimmäinen dalmatiankoirapentue - O'zone A - syntyi v. 2001 ja ensimmäinen dobermannpentue - O'zone B - syntyi v. 2002; meillä on n. 1 pentue vuodessa. Pyrin löytämään toisilleen mahdollisimman hyvin sopivat ja toisiaan täydentävät parit. Tavoitteenani on mahdollisimman terve, toiminnanhaluinen ja sosiaalinen koira, joka vielä ulkomuodoltaan ja muilta ominaisuuksiltaan vastaisi mahdollisimman hyvin rotumääritelmää. Kaikki koiramme kasvavat ja elävät ihmisperheen kanssa, sen jäseninä. Pentuja luovutamme vain vastuuntuntoisiin ja mielellään harrastaviin - lajista riippumatta - koteihin.
Olet tervetullut pistäytymään sivuillamme ja tutustumaan koiriimme ja pentuesuunnitelmiimme!
Olen suorittanut Suomen Kennelliiton kasvattajakurssin ja allekirjoittanut SKL:n kasvattajasitoumuksen. Kasvatustyössäni noudatan sekä SKL:n, SDY ry:n jalostuksen tavoiteohjelman sekä Suomen Dalmatiankoirat ry:n jalostustavoitteita ja sääntöjä. Yritän myös jatkuvasti uusia ja ylläpitää koiratietouttani: mm. Koiran käyttäytyminen ja koiran ongelmakäyttäytymisen fysiologiset perusteet sekä Palveluskoirakokeiden ja koetulosten käyttö jalostuksen mittarina (koiran hyödyntäjän näkökulma) -kursseilla.
Olen suorittanut PK-koirankouluttajakurssin keväällä 2003 ja PK-koulutusohjaajakurssin keväällä 2005. V. 2006 minulle myönnettiin SPKL ry:n pronssinen ansiomerkki aktiivisuudesta koiraharrastuksen parissa. Minulle on myönnetty SDY ry ( Suomen Dobermannyhdistys) pronssinen ansiomerkki v. 1999 ja hopeinen ansiomerkki v. 2008. Alkuvuodesta 2008 olen myös suorittanut PK-koetoimitsijakortin (erityisalueena luonnetesti).

Suomen dobermann yhdistys ry. Vuoden kasvattaja 2013 (perustuu koe-, näyttely-, terveystutkimus- ym. vastaaviin tuloksiin)

Dalmatiankoirat ry Kasvattajaplakaatti nro 18 luovutettiin kennel O'zone:lle ansioista dalmatiankoirien kasvatustyössä, erityismainilla kattavasta kasvattien terveystutkimuksesta.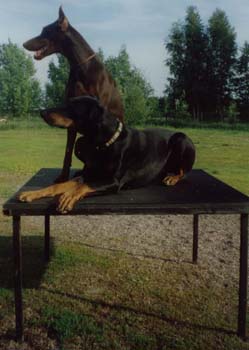 SKL:n Kasvattajasitoumus (FKA Breeder's Agreement - in Finnish)
SDY r.y. jalostustoimikunnan sivut (FDC Breeding Committee's site)
Suomen dalmatiankoirat r.y. - Finnish Dalmatian Club
Articles-sivulta voit lukea kirjoittamiani juttuja ja mielipiteitäni eri aiheista. (in Finnish)
O'zone-kasvattajaesittely, joka on julkaistu aiemmin DAL-lehdessä 04/2004.
DAL kasvatatjaesittely (v 2013) julkaistu aiemmin DAL-lehdessä 2013 -> OZONEesittelyDAL2013 [PDF]
O'zone-kasvattajaesittely, joka on julkaistu aiemmin Dobermann-lehdessä.
jukaistu aiemmin Dobermann-lehdessä 2012 -> KasvattajaesittelyOZDOB2012 [PDF].
I want to thank all those who have shared their knowledge and experience on these breeds with me.
THANK YOU MY FRIENDS!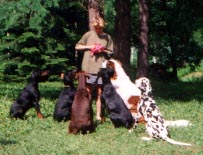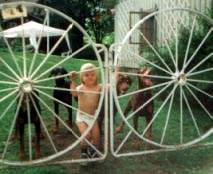 My 2 year old nephew at our summer house with his "guardian angels"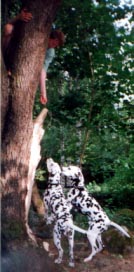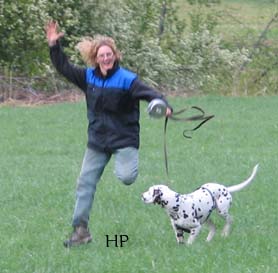 Happy after welldone field tracking - well, what is there to say... :-)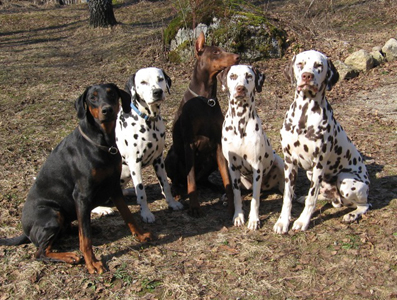 Some of the Dgang in spring 2006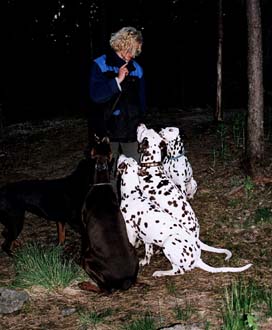 Copppola and some of the D-gang, June'06

First of May poses: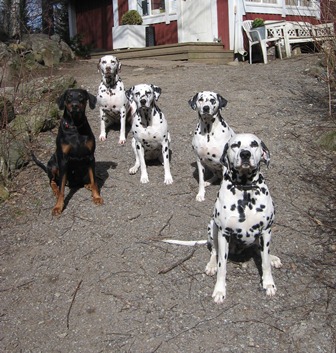 © O. Vilkuna

Mera, Helmi, Alma, Irma & Ilmari 1.5.2012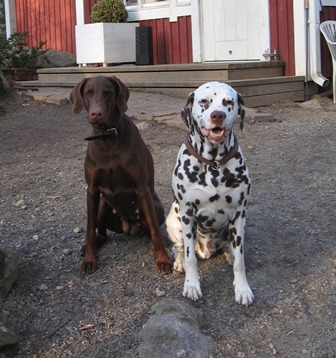 © O. Vilkuna

Åsa & Eetu 1.5.12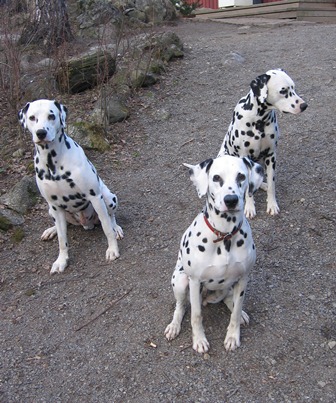 © O. Vilkuna

Oiva, Ilpo & Miina 1.5.12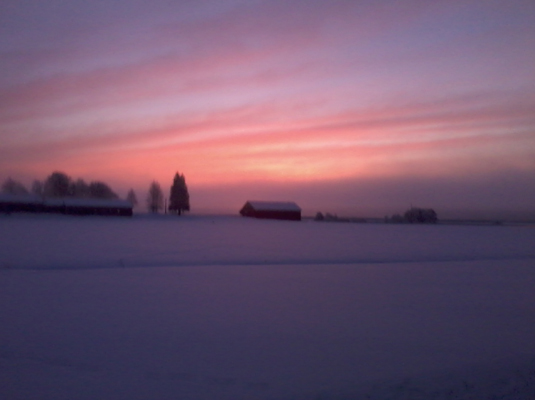 © O. Vilkuna

Scenery from the fields close to our house, 03/2013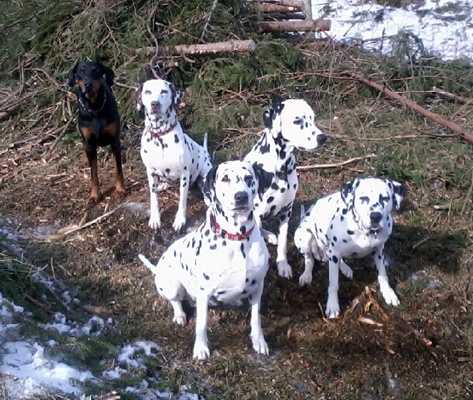 © O. Vilkuna

Some our our gang 31.3.13 from up left: Mera almost 10 years, Helmi little over 8 years, Ilpo just turned 2 years / front from left: Alma almost 6 years & Irma 7 years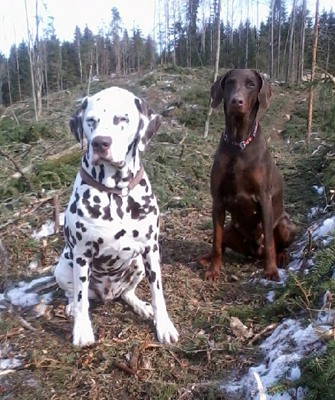 © O. Vilkuna

31.3.13 Oz. Evald 7½ years & O'zone Formosa 6 years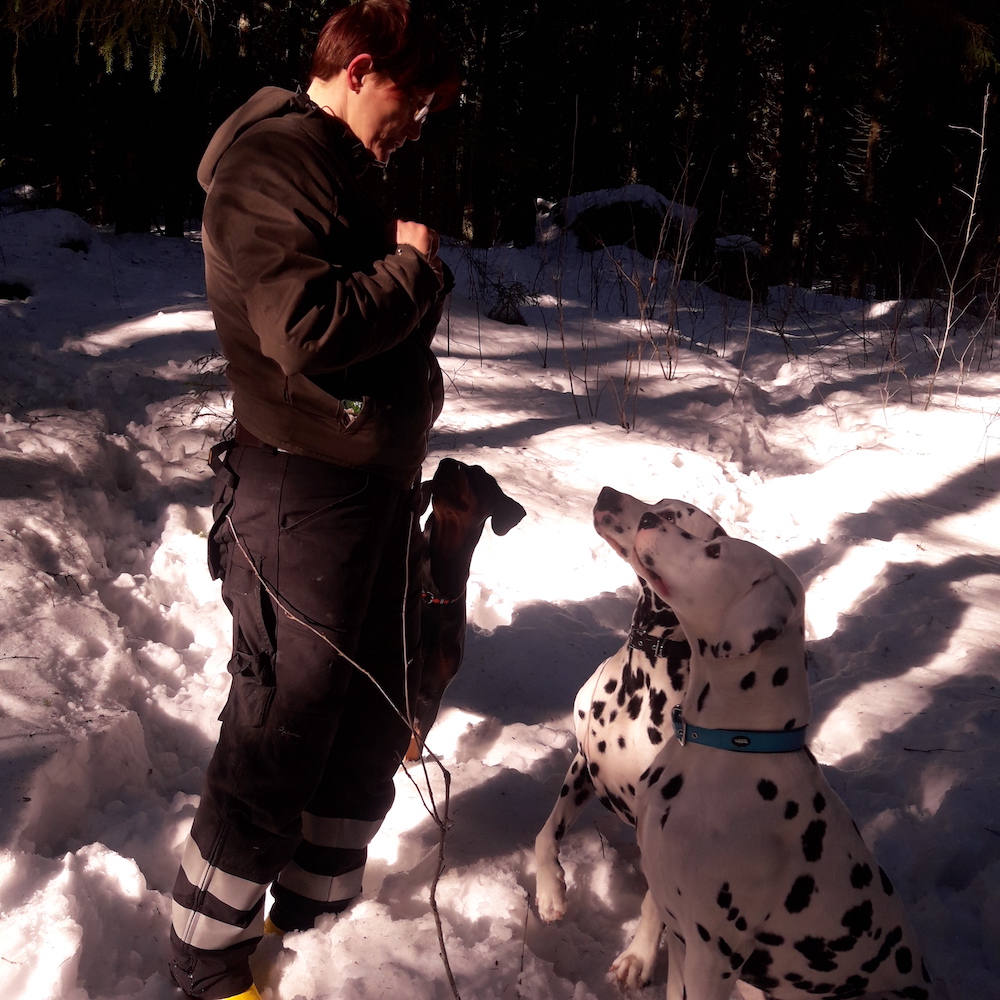 Me, Halla and "the boys" Tarmo & Gabri 02/2021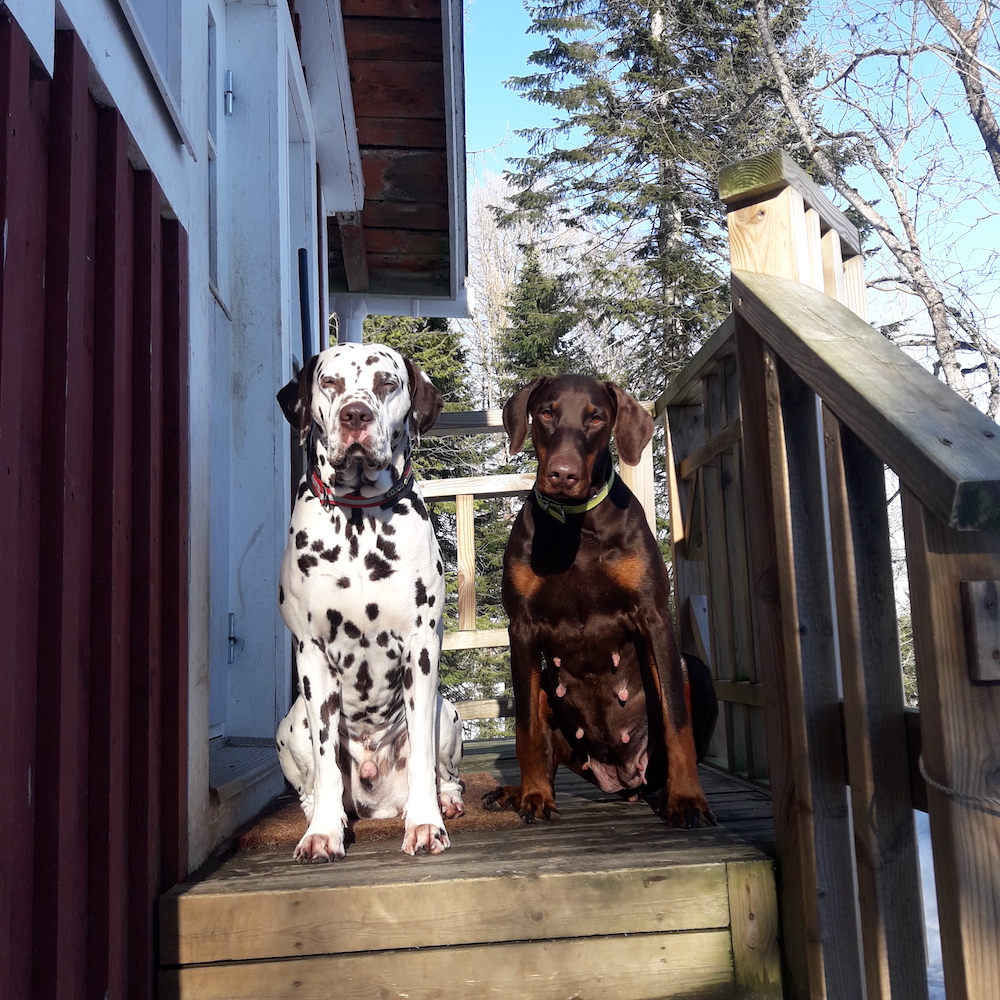 Oz. Qommander almost 7 years & Oz. Phaedra 7½ years 03/2021